Baby, You're Gonna Be Mine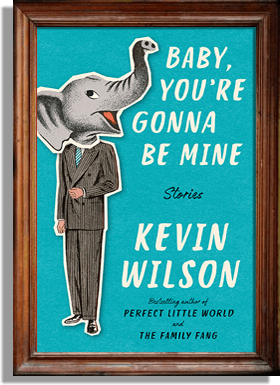 Order: Barnes & Noble | Amazon | IndieBound | Books-A-Million | iBooks – Apple
In Baby, You're Gonna Be Mine, Kevin Wilson's first story collection in nearly a decade, Wilson combines his signature quirkiness with his keen eye for emotional complexity to explore the fraught relationship between parents and children.
"Wildfire Johnny" is the story of a man who discovers a magic razor that allows him to travel back in time. "Scroll Through the Weapons" is about a couple taking care of their underfed and almost feral nieces and nephews. "Signal to the Faithful" follows a boy as he takes a tense road trip with his priest. And "Baby, You're Gonna Be Mine," the title story, is about a narcissistic rock star who moves back home during a rough patch. These stories all build on each other in strange and remarkable ways, showcasing Wilson's crackling wit and big heart.
Filled with imagination and humor, Baby, You're Gonna Be Mine is an exuberant collection of captivating and charmingly bizarre stories that promise to burrow their way into your heart and soul.
Perfect Little World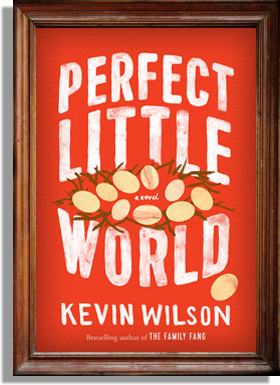 Order: Barnes & Noble | Amazon | IndieBound | Books-A-Million | iBooks – Apple
When Isabelle Poole meets Dr. Preston Grind, she's just about out of options. She recently graduated from high school and is pregnant with her art teacher's baby. Her mother is dead and her father is a drunk. The art teacher is too much of a head-case to help raise the child. Izzy knows she can be a good mother but without any money or prospects, she's left searching.
So when Dr. Grind offers her a space in The Infinite Family Project, she accepts. Housed in a spacious compound in Tennessee, she joins nine other couples, all with children the same age as her newborn son, to raise their children as one extended family. Grind's theory is that the more parental love a child receives, the better off they are.
This attempt at a utopian ideal-funded by an eccentric billionaire-starts off promising: Izzy enjoys the kids, reading to them and teaching them to cook. She even forms a bond with her son more meaningful than she ever expected. But soon the gentle equilibrium among the families is upset and it all starts to disintegrate: unspoken resentments between the couples begin to fester; the project's funding becomes tenuous; and Izzy's feelings for Dr. Grind, who is looking to expunge his own painful childhood, make her question her participation in this strange experiment in the first place.

Written with the same compassionate voice, disarming sense of humor, and quirky charm that made The Family Fang such a success, PERFECT LITTLE WORLD is a poignant look at how the best families are the ones we make for ourselves.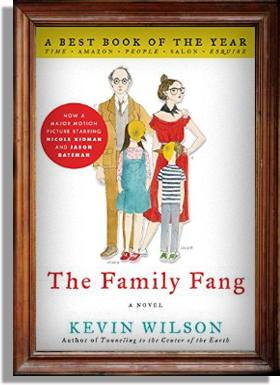 The Family Fang: A Novel
Order: Barnes & Noble | Amazon | IndieBound | Books-A-Million | iBooks – Apple
Mr. and Mrs. Fang called it art. Their children called it mischief.

Performance artists Caleb and Camille Fang dedicated themselves to making great art. But when an artist's work lies in subverting normality, it can be difficult to raise well-adjusted children. Just ask Buster and Annie Fang. For as along as they can remember, they starred (unwillingly) in their parents' madcap pieces. But now that they are grown up, the chaos of their childhood has made it difficult to cope with life outside the fishbowl of their parents' strange world.
When the lives they've built come crashing down, brother and sister have nowhere to go but home, where they discover that Caleb and Camille are planning one last performance—their magnum opus—whether the kids agree to participate or not. Soon, ambition breeds conflict, bringing the Fangs to face the difficult decision about what's ultimately more important: their family or their art.
Filled with Kevin Wilson's endless creativity, vibrant prose, sharp humor, and keen sense of the complex performances that unfold in the relationships of people who love one another, The Family Fang is a masterfully executed tale that is as bizarre as it is touching.
"THE FAMILY FANG is a comedy, a tragedy, and a tour-de-force examination of what it means to make art and survive your family.  Like everything else Kevin Wilson does, I have never seen anything like it before.  The best single word description would be brilliant."
-Ann Patchett, best-selling author of Bel Canto, The Magician's Assistant, and Run
"Each page feels like unearthing a discovery.  This is the kind of novel you fall in love with: tender-hearted, wonder-filled, a world all its own. . . .  Wilson is such [a] talent, so rare and beautiful and big."
-Josh Weil, author of The New Valley
"Kevin Wilson commands the cavalry riding around the vastly important Army of the Loopy.  This Army protects the less important Army of the Earnest.  He rides slashing from the Implausible to the Plausible, and from  there quickly to the Necessary and on to the True.  The command of this ride is wicked, clean,  and correct. The Family Fang will appear Coenized out of Hollywood but you should catch them here first."
-Padgett Powell, author of Edisto, Aliens of Affection, and The Interrogative Mood

It's The Royal Tenenbaums meets Who's Afraid of Virginia Woolf? I'd call The Family Fang a guilty pleasure, but it's too damn smart. Here, finally, is a much needed reminder that astute fiction can still be a total blast.
-Hannah Pittard, author of The Fates Will Find Their Way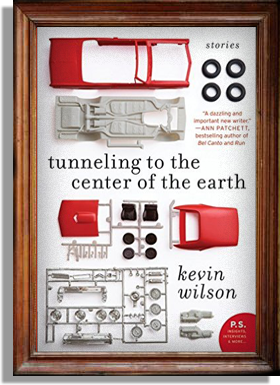 Tunneling to the Center of the Earth: Stories
Order: Barnes & Noble | Amazon | IndieBound | Books-A-Million | iBooks – Apple
Kevin Wilson's characters inhabit a world that moves seamlessly between the real and the imagined, the mundane and the fantastic. "Grand Stand-In" is narrated by an employee of a Nuclear Family Supplemental Provider—a company that supplies "stand-ins" for families with deceased, ill, or just plain mean grandparents. And in "Blowing Up On the Spot," a young woman works sorting tiles at a Scrabble factory after her parents have spontaneously combusted.
Southern gothic at its best, laced with humor and pathos, these wonderfully inventive stories explore the relationship between loss and death and the many ways we try to cope with both.
"The detonating qualities of strong emotion appear in several stories, but Wilson is equally preoccupied with the absurdity of his imagined modern world…Wilson's true gift is for depicting the dangers of strong, complex emotions…Wilson's protagonists are frequently survivors, marred and changed from their exposure to the world.  And when Wilson leaves behind his quirkiest conceits to focus on this more subtle material, his work shimmers…Wilson offers fabulous twists and somersaults of the imagination…As Wilson continues to dig into the texture and mystery of the world, his fiction should grow, like his best characters, in strange and remarkable ways."
-New York Times Book Review, 4/5/2009
"A Southern writer with a bent sense of humor offers a fine debut collection of stories, some unlike anything you've read before. Wilson displays a marvelous sense of narrative ingenuity…Weird and wonderful stories from a writer who has that most elusive of gifts: new ideas."
-Kirkus Reviews (Starred Review), 2/15/2009
"These 11 stories, by turns hilarious and elegiac, unfold like delicious, ripened dreams, and then abruptly explode into nightmares…Wilson does a spectacular job of maneuvering between voices and worlds, and in the process delivers a wide, convincingly erratic range of human emotion. To write such masterful stories takes a graceful eye, and, even more, a compassionate heart. Wilson has both. His disturbing, moving tales burrow their way under our skin and stay there."
-Time Out New York, 4/6/2009
"…captivating debut…a lively landscape with rich and twisted storytelling…fresh and darkly comic"
-Publishers Weekly, 12/1/2008
"The world of Kevin Wilson's Tunneling to the Center of the Earth is at once familiar and new. The stories are set in a believable though exaggerated America of martial arts video games, Scrabble factories, sideshow acts, and spontaneous combustion. With their absurdist elements, these oddball tales recall the fiction of Steven Millhauser and George Saunders."
Boston Globe – 4/9/2009
"Wilson's little time-bomb fables have a surrealist zip, like miniature Magritte paintings come to life."
Washington Post – 7/8/2009
"A dazzling and important new writer."
-Ann Patchett, best-selling author of Bel Canto and Run
"Kevin Wilson is the unholy child of George Saunders and Carson McCullers. Bow your heads! Jesus Christ is this guy good."
-Owen King, author of We're All In This Together